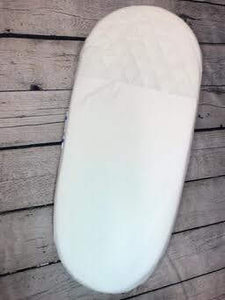 Replacement safety foam mattress made to fit the Oyster 3 Carrycot body ( Not the original oyster 1 body or the Oyster 2 )-these are listed separately ).
Soft quilted cover which may be removed for washing.
Fully breathable throughout
Complies to BS1877:Part10:2011 + A1:2012 & BS1777:2008 + A1 2011 for domestic use ( low hazard )Made from CMHR25 density hypoallergenic foam. No arsenic, phospherous or antimony based fire retardant creating a safe comfortable environment.
MADE IN THE UK